All-in-One Cloud-based HR Platform
---
Matrix HR System is able to oversee all important information for each department and employee in a glance which will save them a ton of time handling administrative work will also be easier for them as they will have everything gathered in one place.
Matrix HR are simplifying HR strategy by automating traditional HR transactions and driving business benefits across functions
Real-Time Benefits of Matrix HR System

Attendance & Time-tracking
Attendance and time-tracking module adds the functionality you need to automate and manage attendance tracking

Vacations & Absence
Keep track of the vacation days taken by each employee. Employees enter their requests and managers approve and validate them, all in just a few clicks


Payroll
Attendance data into Payroll effectively and with 100% precision of Pay Days, Salary, Loan, Advance, Overtime, Allowance, and Deduction.


Work-Shift Scheduling
Flexible & functional shift planning module. You can simply create & edit shifts, then notify your employees with a click of a button. Everyone has access to their schedules from Odoo as well as mobile apps.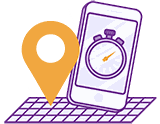 Geo-fencing & Time Tracking

Geo-fencing features allow your device to locate you easier and reduce the effort to miss-used the application by tagging another location outside the parameter.


Biometric Device Integration
This integration with several attendance methods such as biometric attendance machines that include fingerprint, iris, and facial recognition devices, provided a few prerequisites are met.


Expenses
Managing your employees' daily expenses has never been easier. Whether it's travel expenses, office supplies, or any other employee expenditure, access all receipts and expense submissions from your Expenses dashboard and create, validate, or refuse them in just a click.


Employee Recruitment

This module helps you to perform the recruitment process easily and efficiently. Here, you can add new candidate information, Also, you can manage all candidate information.

Employee Loan
Using this module, you can manage all loan-related activities. You can add new loans and manage granted loans. Also, you can manage loan installments.


Overtime
This module over time could be useful for creating overtime requests based on days and hours. This overtime could be utilized as leave allocation or cash payment.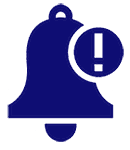 Announcements & Notification

This module helps you to manage official announcements. You can add and manage various notices for your employees.

Employee Appraisal
The appraisal module helps you to utilize the best of your human resource pool. Implement appraisal strategies to keep the motivational and performance level of your employees high. The appraisal Module brings you an ability that allows you to maintain the motivational process in your company by doing periodical evaluations of your employees' performance.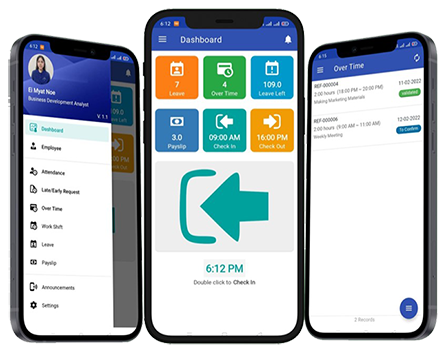 Employee self-service
Each employee has an account where they can see their leave balance, request new time off, overtime as well as access other important information

Time off approvers receives push notifications when their employees request time off & can approve or decline directly from mobile devices - quick & easy!
HRMS Mobile App Feature
Developed using the latest technology and user-friendly interface to make it easier to navigate around the application.
Looking for more?
Ready to make your payroll and HR easier?